I rarely use this blog to promote anything unless I experience something above and beyond my expectations. When I experience great service, I want to share it to all of you because it might help you make a better buying decision when the need arises.
I started looking around the Net for customized photo holiday cards that had lots of pretty designs and offered a good value for my money. I tried a printing service two years ago. The service was great but the look and feel of the card felt a bit cheap.
This year, I picked
Shutterfly
to print my 2010 holiday cards. The website had a beautiful brown design that I had in mind going into this project.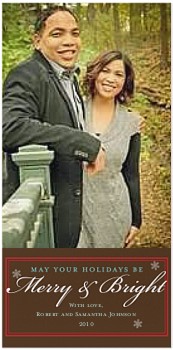 Merry & Bright Holiday

Uploading our photo into the design was easy. In fact, I initially made a mistake with the cropping and felt unhappy with how the printing came out.
I expressed my regret to
Shutterfly customer support
and they readily gave me free credits to re-do my cards. They totally did not have to do that but their desire for me to be 100% happy re-assured me that I picked the best printing service for my cards.
I proceeded in re-doing the cards and it only took a couple of days for it to be delivered to my doorstep -- and it came out perfectly! I just got done ordering a second batch and will probably order a third.
Are you looking for thoughtful gift ideas this Christmas? Here are some other items you can customize on
Shutterfly
.
These gift ideas are perfect if you have an extensive collection of family photos. I am so happy with the service of Shutterfly and I just thought of sharing with you this great customer service experience.
Share with us today:
Any product and/or service that you would like to recommend this Christmas season?